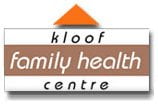 Kloof Family Health Centre situated at 8 Village Rd, Kloof, is a group of health professionals committed to servicing the Upper Highway and surrounding areas with quality health care. The centre embraces the needs of the whole family with a special focus on children under the umbrella of `The Children`s Assessment Centre`.
Our team of therapists are pivotal in diagnosing and treating barriers to learning such as ADD/ADHD (Attention Deficit Disorder or Attention Deficit Hyperactivity Disorder) and other underlying learning difficulties. We also focus on addressing behavioral problems and emotional or social difficulties.
Occupational Therapists, Physiotherapist, Nutritionist and Psychologists, both clinical and educational, work alongside the paediatrician in unison with parents and the school teachers to provide a holistic approach to the child.
This holistic package allows all facets of the child to be included from diagnosis of problems to implementation and continued appropriate therapy. Ongoing communication with the child`s parents, school, medical professionals and support systems ensure continuity of care and progress well into adulthood.
All the Health Professionals at Kloof Family Health Centre have many years of experience dealing with children in their specialised field ensuring your child has the very best care available.